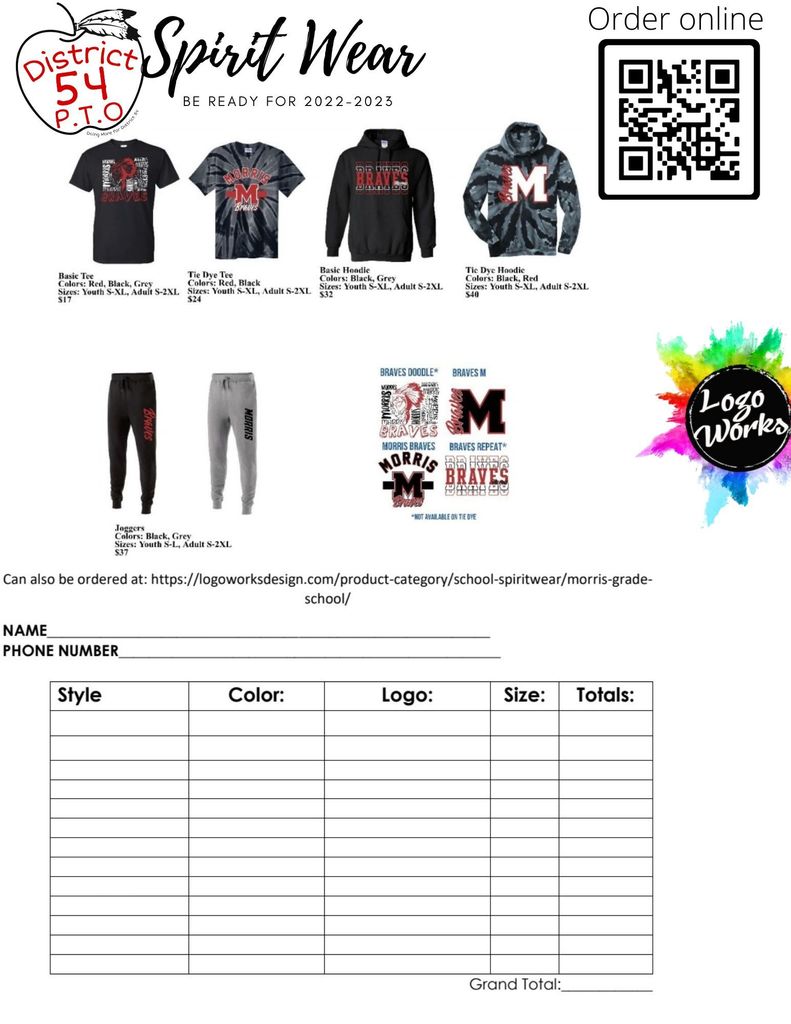 The next NAMI Family-to-Family class will be taking place at We Care starting September 20th. The class will meet every Tuesday night at 6-8:30 for 8 weeks. NAMI Family-to-Family is a free, 8-session educational program for family, significant others and friends of people with mental health conditions. It is a designated evidenced-based program. This means that research shows that the program significantly improves the coping and problem-solving abilities of the people closest to a person with a mental health condition. Family-to-Family is taught by NAMI-trained family members who understand the needs of those taking the class, because they too have been caretakers of a loved one with a mental illness. The program includes presentations, discussions and interactive exercises. Family-to-Family not only provides information and strategies for folks who have a loved one that they are taking care of, but in taking the class with others, they find out that they are not alone. Recovery is a journey, and there is hope. The group setting of NAMI Family-to-Family provides mutual support and shared positive impact, and participants learn: • How to solve problems and communicate effectively • Taking care of yourself and managing your stress • Supporting your loved one with compassion • Finding and using local supports and services • Up-to-date information on mental health conditions and how they affect the brain • How to handle a crisis • Current treatments and therapies • The impact of mental health conditions on the entire family Meals, snacks and childcare will be provided. We partner with NAMI (the National Alliance on Mental Illness) and Morris Hospital Foundation to make this program possible. If you would like to register for this program, please call 815-942-6389 ext 4.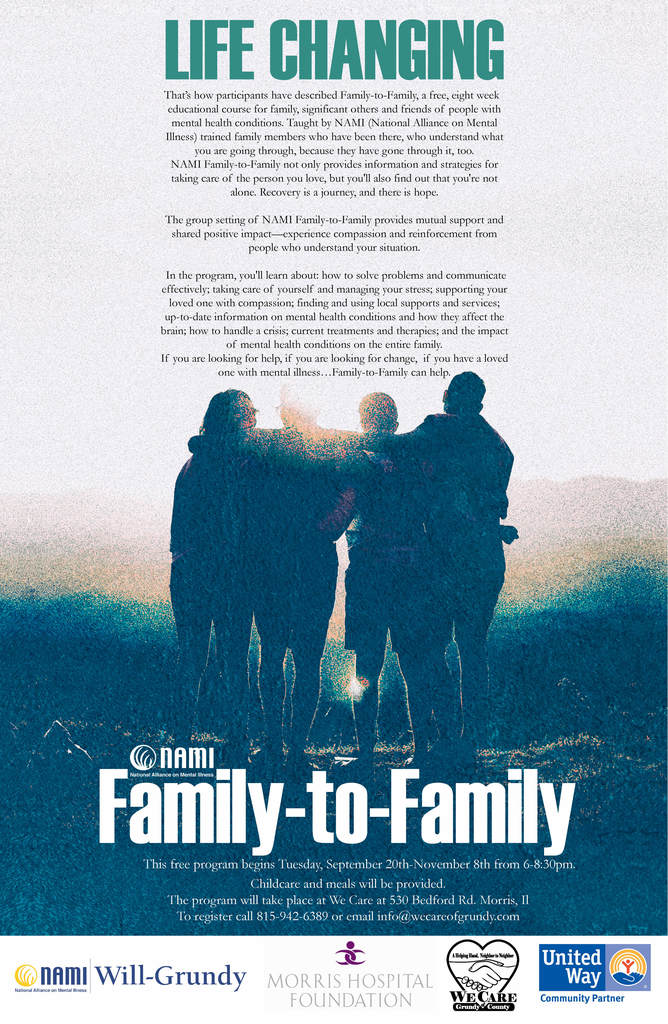 🤗 A huge WELCOME to Mrs. Mallory Betken, our new Dean of Students! We are so happy to have her join our fabulous team at District #54! ✨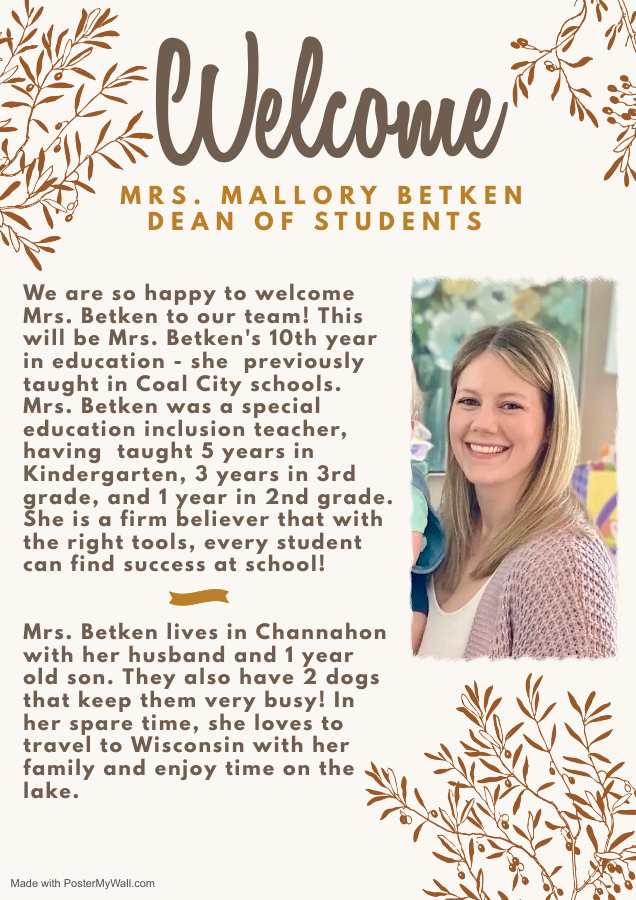 📣Attention! 📣 We have our FIRST GOLDEN TICKET recipient of the year! 🙌🏻 Congrats to our super cool 5th grader, Erik Wills! Way to go! 🤗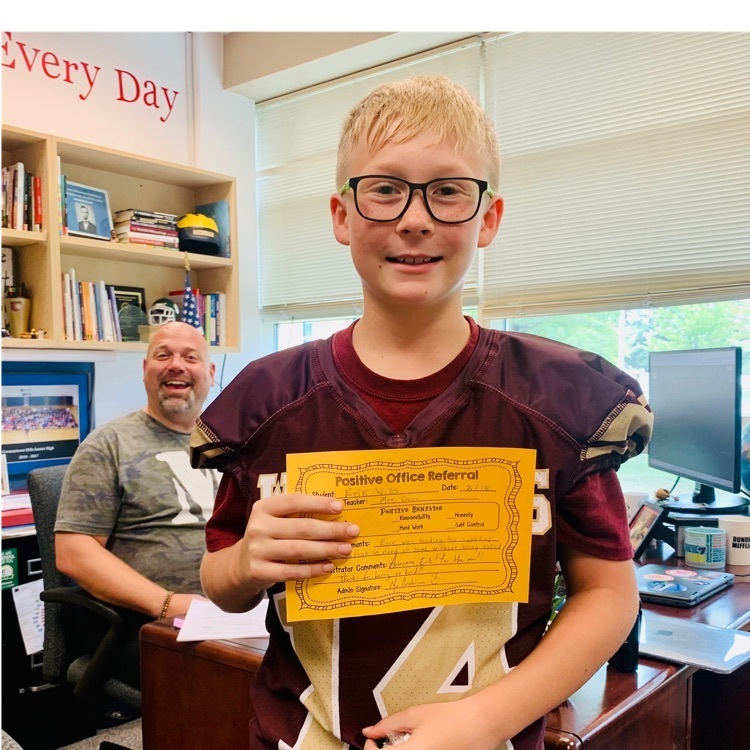 ☻︎ ᗯᗴᒪᑕOᗰᗴ ᗷᗩᑕK! ☻︎ 📚📓✏️Don't forget that Supply Drop-Off/Meet the Teacher Night is tonight, August 16th, from 4-6 pm! Please enter through the main entrance (Door 1), and staff will be available to help you find your child's room. The PTO will be selling spirit wear and there will be photo backdrops! Students in grades 6th-8th can receive a copy of their schedule at this time as well. The First Day of School is Wednesday, August 17th. We look forward to seeing everyone and having a great start to the 2022-2023 school year! Woo hoo!! 🤗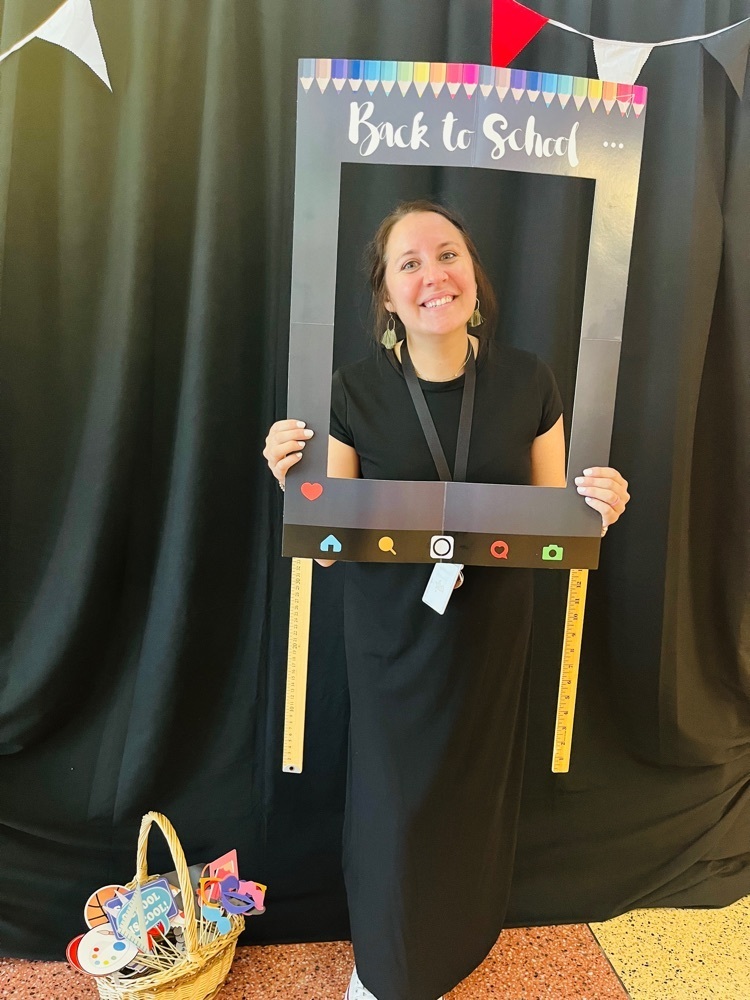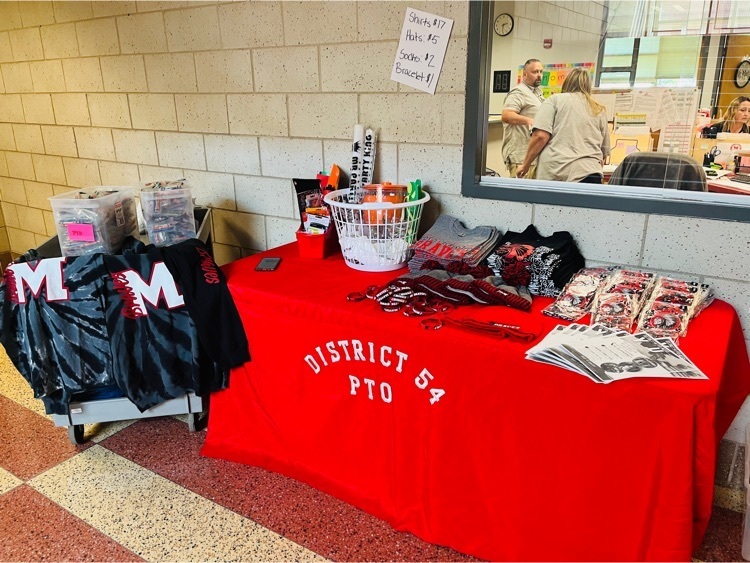 🤩 The Morris Varsity Poms Clinic is coming up soon! See below for more information! 🌟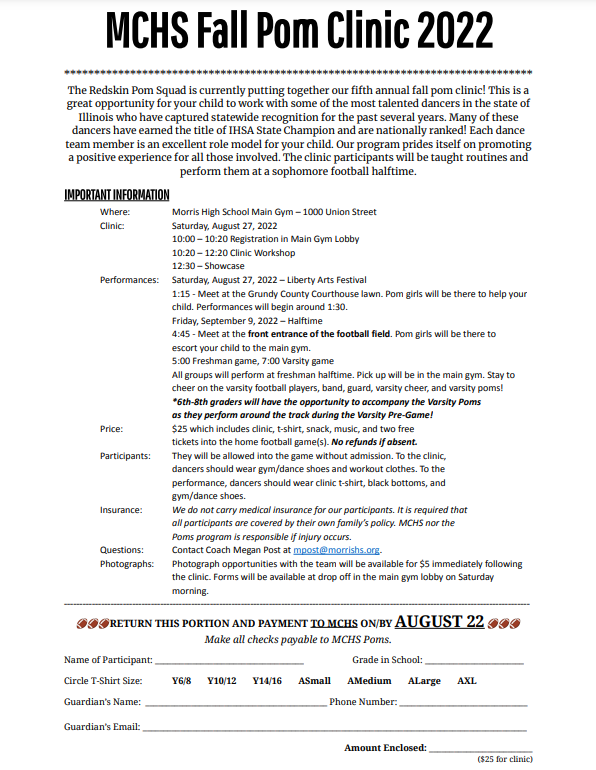 Morris Grade School is still looking for Paraprofessionals for the upcoming school year! Please go online to morris54.org to apply or reach out to Dr. Stover at
mstover@morris54.org
.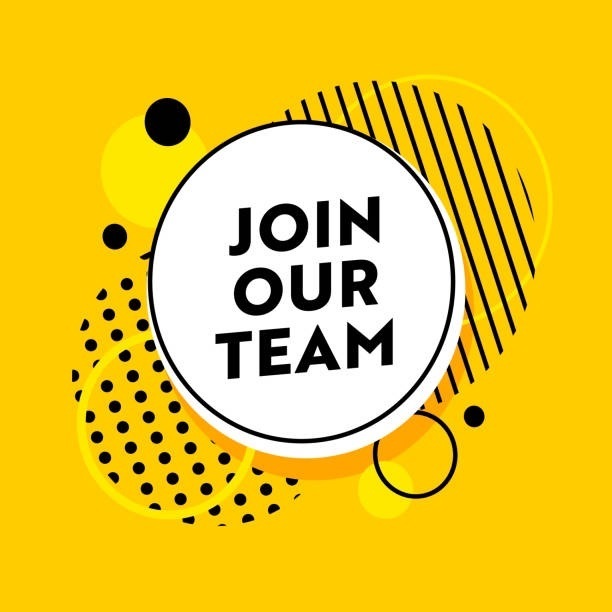 😁 - Zydeco Concert - Check out this fun, cultural family concert sponsored by the Morris Area Public Library- August 12th at Goold Park Band Shell! 🎶🎵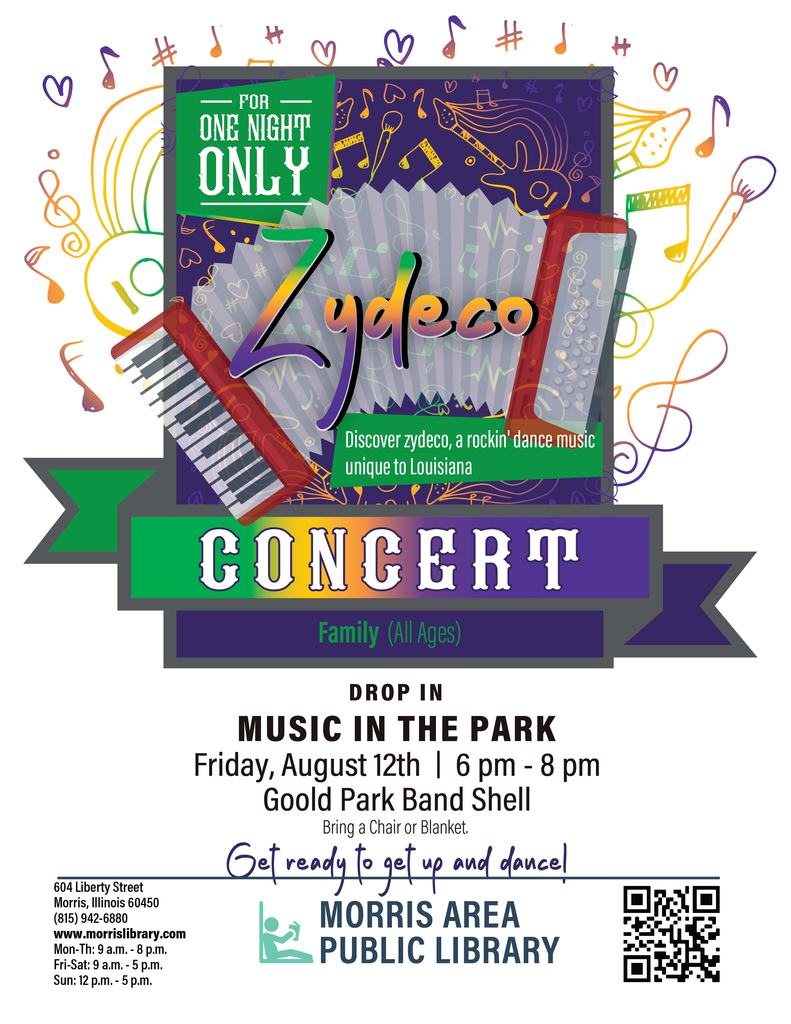 Register today for the YMCA Kid Zone - Before and After School Youth Enrichment Program!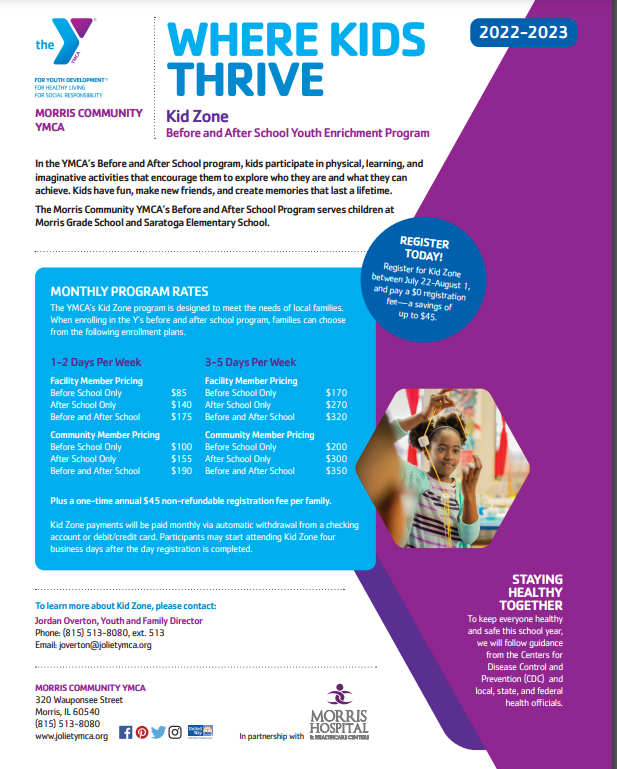 🦷The Will County Dental Van is coming to Morris! See below for more information!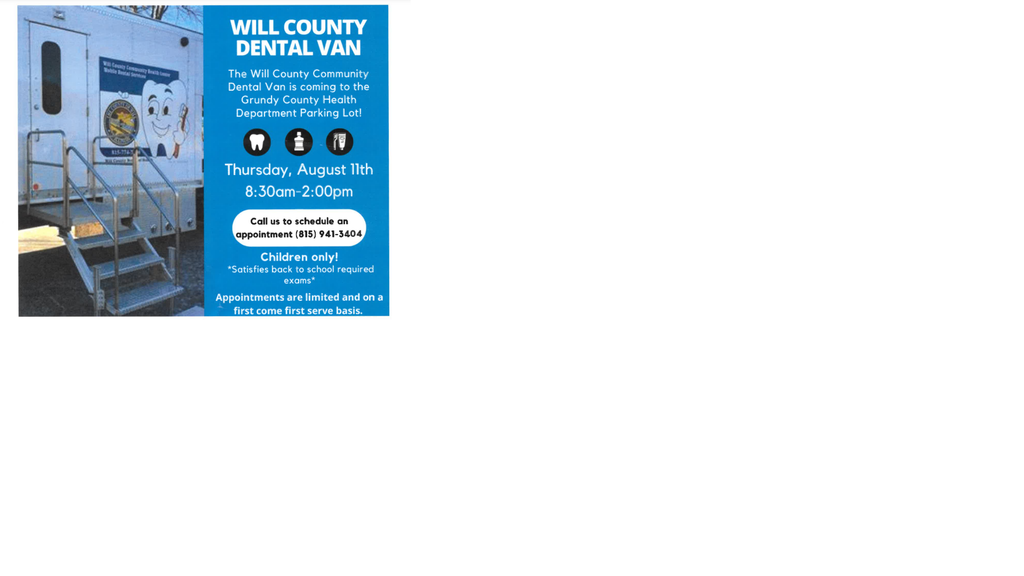 ✨Morris Elementary School District #54 is selling our used Chromebooks to the public for $25 each! Woo hoo!💻 👉What: Selling Lenovo N23 touch Chromebooks with chargers 👉Cost: $25.00 each 👉Where: Morris Grade School, E wing, Door 28 👉When: Tuesday 8/9 and Thursday 8/11 from 3 PM to 6 PM, and Friday 8/12 from 10 AM to 1 PM (or until no more exist to be sold).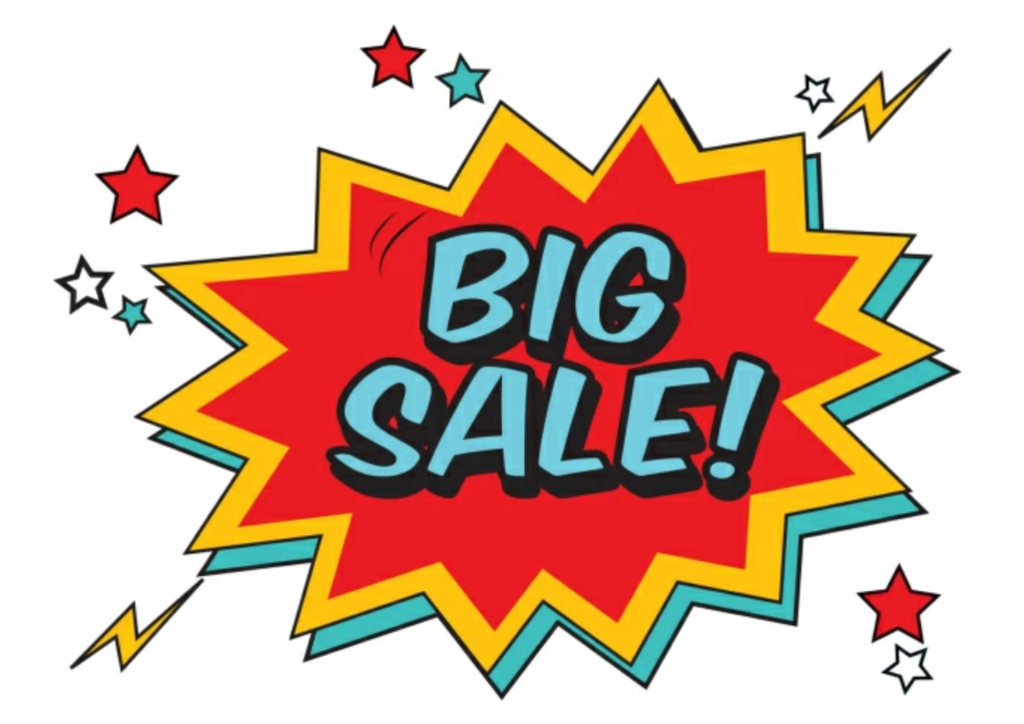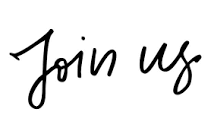 ⚠ATTENTION! Softball will now be open to 5th grade students! 🥎 The next tryout date is tomorrow morning! 😎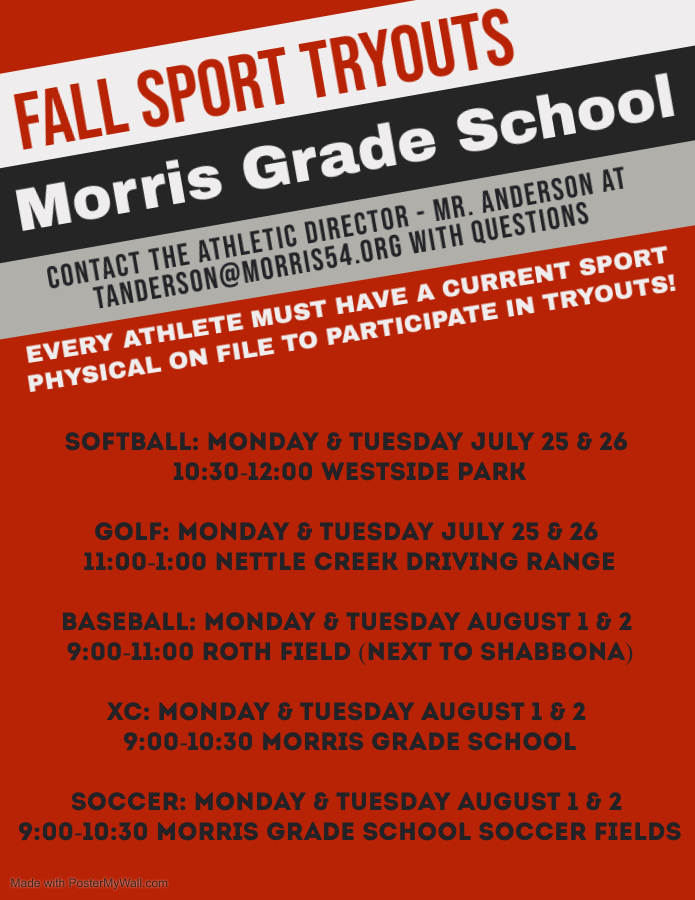 📣 CHEER tryout dates are set! 📣 Monday, August 29th & Tuesday August 30th, from 3:30-5:00 at MGS. (Cheer is 5th-8th grade.) 👉Anyone who wants to be a part of the competitive cheer program will not be able to participate in basketball or volleyball as the seasons overlap!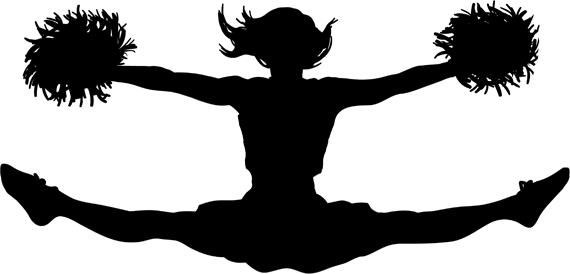 🚌 Saratoga School needs bus drivers! The starting rate is $21.00/hr and Saratoga takes care of the training cost. 🤗 🧒Parents, you can bring your children with you on the bus (two years and older). 😁Retirees, this is a great part-time job to supplement your income! ⭐Call today and join the Saratoga transportation team!! 👉 815-416-1745 or 815-942-2128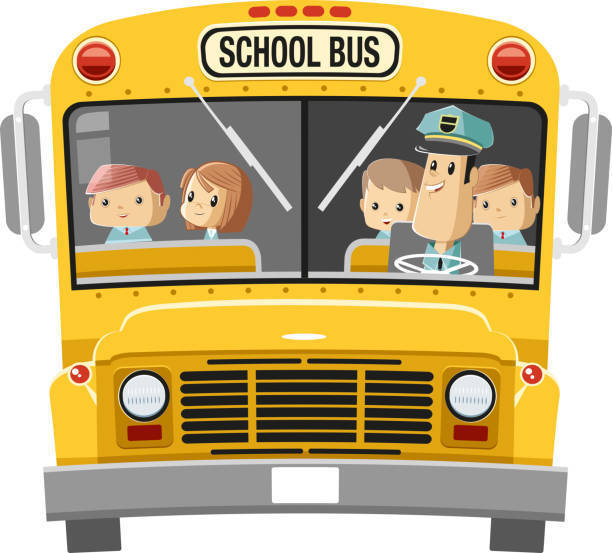 Join Our Team! Be a huge part of our story at MGS! 😊 We are currently hiring for multiple positions - Apply Here! 👇
https://www.applitrack.com/morris54/onlineapp/
⭐Speech/Language Pathologist ⭐School Psychologist ⭐Music Teacher ⭐Interventionist(s) ⭐Paraprofessional(s)
Morris Grade School Student Athletes! 😎 Tryouts for Fall sports are quickly approaching! Below are the tryout dates for this upcoming school year. Please note that Cross Country is for 5th-8th grades. All other sports are for 6th -8th grades. All student athletes who plan on trying out for a sport MUST have an up-to-date sports physical on file!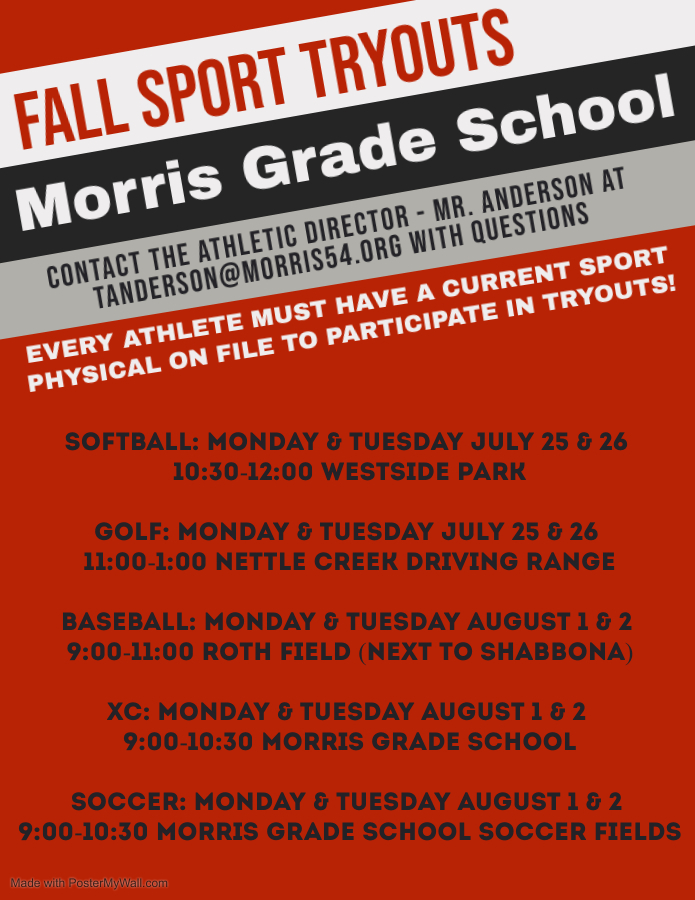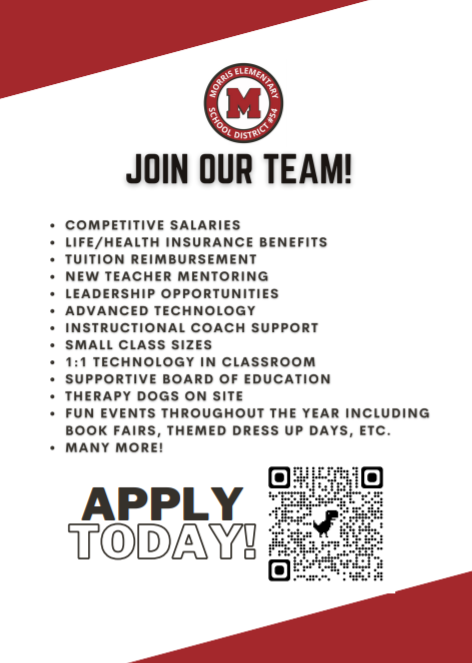 JOIN REP. DAVID WELTER & SEN. SUE REZIN for their Kids Safety Expo on Sat., August 6th, from 9:30 A.M. - 12:30 P.M. at Morris Grade School! 😀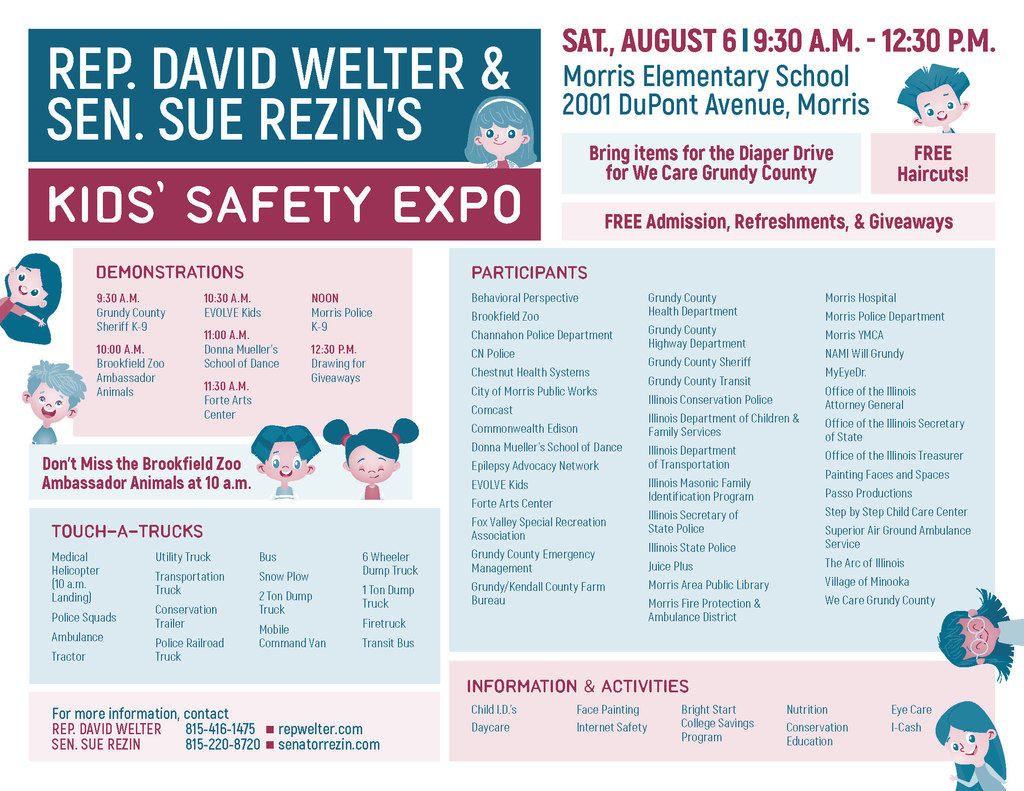 We Care of Grundy County, Operation St. Nick, and Goodwill are once again teaming up to provide back to school help for Grundy County residents in need by providing school supplies and clothing for kids. Who Do We Help? Grundy County residents who earn an income of 200% of the federal poverty level or below. Applications are available on our website at
www.wecareofgrundy.com
or can be picked up at We Care at 530 Bedford Rd., Morris. The deadline to apply for assistance is July 25th. If you have any questions, please call We Care at 815-942-6389.