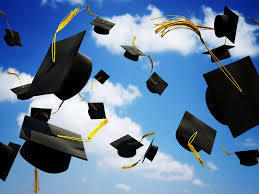 8th Grade Graduate Recognition Ceremony
Amy Aldrich
Wednesday, July 29, 2020
Dear 8th Grade Parents,
We look forward to our Graduate Recognition Ceremony tomorrow (7/30). It looks like the weather will hold out, but here is the plan if we need to make other arrangements:
1. We will make the decision by 9:00 AM on whether or not we can have the ceremony outside.
2. If it is determined that the ceremony cannot take place outside, we will send information on signing up for a time slot to come in, receive your child's diploma and have a picture taken by the school photographer. Only parents will be allowed in the building with the student.
3. Everyone entering the building will be required to be masked. Students may take their mask off to walk across the stage and get their picture taken.
4. Entrance and exit doors will be communicated, if this back-up plan must take effect.
I believe that this will be a great way to recognize the accomplishments of our 8th Graders. Please remember that students need to arrive at Goold Park by 6 pm. Guests should enter the park via Union Avenue since the entrance at Lisbon Street will be blocked off. Parents may park in the lot by the pool or the lot closest to the high school. The high school is available for overflow parking.
Just a reminder that students will be lined up, their names will be called and then they will walk across the stage, receive their diploma and have a picture taken by the school photographer. This will not be the full graduation ceremony as in years past. We expect the ceremony to last only about 30 minutes. Guests should be limited to parents and siblings. Please be sure to follow appropriate social distancing guidelines while in attendance.
IF A LIABILITY WAIVER AND SELF-CERTIFICATION FORM ARE NOT COMPLETED PRIOR TO ARRIVAL AT THE PARK, YOUR GRADUATE WILL NOT BE ABLE TO PARTICIPATE IN THIS SCHOOL FUNCTION.
Thank you for your continued patience and cooperation as we try our best to create the best ceremony possible to honor our graduates.
Educationally,
Mr. David C. Raffel Jr.